Roots of this project
After several years of creating Vertical Dance buildings, my strong rapport with nature inspired me to try it in trees. I wanted to experience new sensations, particularly flying around a tree.
My perceptions are stronger than my rational thoughts about trees. It is a living being. It was there before me and It will be there after me. I don't want to hurt it. It seems to be strong but it is fragile, vulnerable. Nobody hesitates to cut it down to build their house. Do human lives mean more?  Do we have the right to kill them?
When I see a tree, I would like to caress her, to listen to her, to love, honor and protect her. I don't want to use her just for my floor. I feel her soul. I would like to guide the audience to caress her, to listen to her, to love, honor and protect her with me.
I hope that we can come together in unison to protect trees and recognize that we are all the children of the Earth.
The Tree Spirit:  a duet with tree and dancer, a poetic hymn to nature
This hymn to nature begins with a walk through the forest, guided by a Forest Spirit. He will lead the audience into his world and show them the beauty and the fragility using the senses: touc, smell, sound and sight, helping them discover that in this place everything has a spirit. He is an intermediary between the Tree Spirit and the human spirit. He helps connect one to the other. He will lead the audience to the Tree Spirit.
The TreeSpirit appears once a year to invigorate the tree with energy from a ceremony. But this year, the ceremony doesn't work. The spirit has cared for and nurtured the tree, but the tree is still suffering. The Spirit will invite humans to go into her world. She is going to heighten their awareness and open their hearts. She will invite the audience to lend their positive energy to help heal the tree.
Collaborative Project with the plastic Artist Cécile Ciaramitaro ( http://www.cecile-ciaramitaro.fr )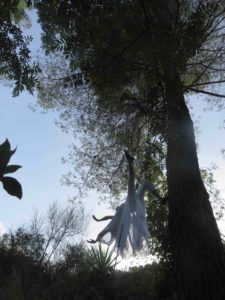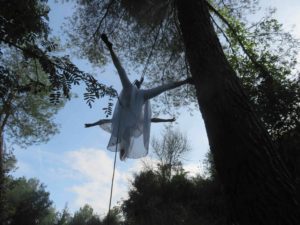 Reflection on the environmental  impact of this creation:
This creation is meant to honor trees, nature, our planet and our universe. It is an invitation for the audience to become connected with their environment, to love respect and protect it. This isn't possible without a deep reflection on our environmental impact.
Our first concern was: will we hurt the trees on which we are going to anchor? Jean-René, our rigger and pruner (when necessary),  has a diploma from the ONF ( National Office of Forestry). He answered: "The weight of the dancer applied to a tree at an angle of less than 30° is insignificant compared to a strong wind perpendicular to the trunk, or compared to the weight of a branch. The dancers are like a feather compared to these natural forces.  Our whole purpose is to protect the trees. "
Costumes and Accessories: The evidence shows that we should limit our environmental impact by using recycled materials ( used costumes, remnants of fabric, old newspaper, boxes, pieces of wood_) and natural materials. The artist Cécile Ciaramitaro realized this with the students of Gattières' elementary school. Our goal is to inspire children to be creative with up-cycled, reused and repurposed items in the creation of art and in their daily lives.
Transport: The choreography has been created at home -no driving,  no pollution.