The Company is born under the impulse of Isabelle Pencréach, a contemporary dancer and teacher.
I discovered vertical dance on a video of « Snow- white » by Angelin Preljocaj. He introduced a little sequence of vertical dance inside the contemporary ballet. It was so magic, the feeling of suspending time of weightlessness : I felt my body, my face, my mind, relaxing. I felt like I was in a state of levitation.My dream became to share this feeling with others.

I would like to add positive energy to the world, to express beauty and love. I hope to touch the hearts of people, because it's by touching hearts that the world will become a better place. This is my humble quest.

Isabelle Pencréach.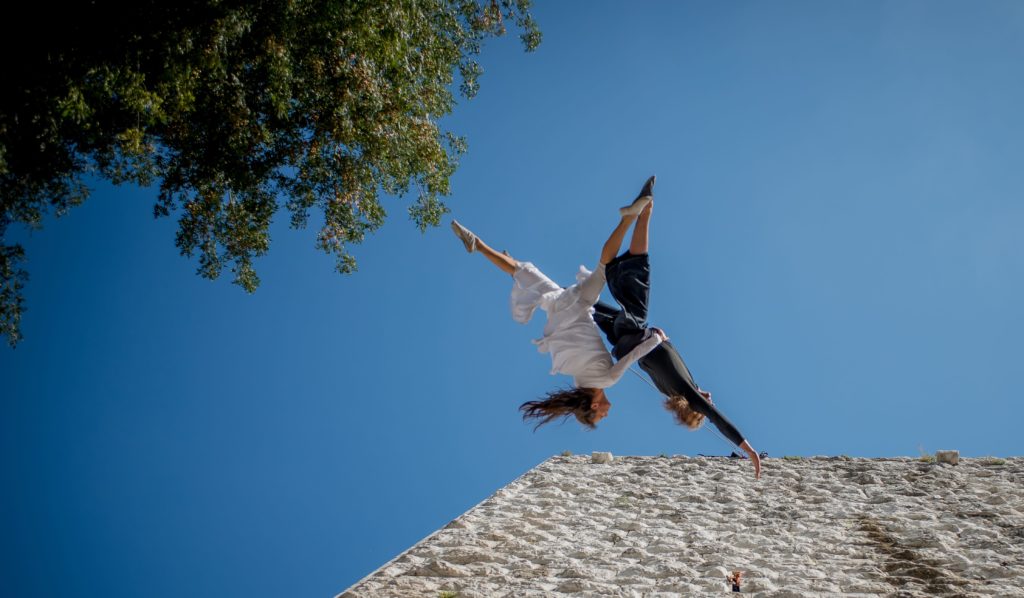 She offers a partnership to Dominique Hédoux, former high level gymnast and rock climbing guide. They will discover this new world of verticality together and create « The thread of love » .
She then received other commissions, one was for Christmas show, and one was for a show built around classical music with a soprano. She felt this music so deeply that she really enjoyed putting it into dance. Fly in the air seems natural, time slows down thanksto the magic of the dance and the complicity of the two dancers.
Vertical dance moves every audience: from 18 months who are captivated, agape, to men and women who can be touched to the tears. Although we are not telling a sad story, they are moved by the beauty of the art.

Remerciements
This company wouldn't exist without the help and implication of certain persons
Thanks to Dominique Hédoux for giving his technical and acrobatic knowledge. The show was therefore even more magical with great performance
Thanks to Saint Jeannet city council and Jean Michel Semperé for allowing the company to dance on the bell tower. They could explore and develop this new art form. The city council of Saint Paul de Vence and Joseph Le Chapelain permitted the realisation of the beautiful "O Sleep" video.
Thank to Roman Janecek, photographer, for his marvellous picture and Joël Gourmelen for the famous "O Sleep" video and "Santa' sleigh" video
Thank you Amy Blake proposing the show "Moonlight"
Finally a big thanks to everyone who helped the company.