Artistic Team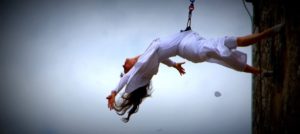 Isabelle Pencréach is a contemporary dancer and dance professor with a certified State diploma. She studied in Danse-création in Marcq-en-Baroeul (France), and later at the vocational training center in dance (off jazz, Nice, France). She then danced in « Interstice », «8 renversé» and «Terrrain vague » companies, and performed with the musician Muriel Esteban. She created two pieces: a duet and a solo she danced at the Avignon's famous festival of dance and in Nice. Teaching, performing and choreographing are a part of the same objective: sharing her passion for dance, a dance based on energy, imbalance, falls, suspension, fluidity, the "fall and recovery" from Humphrey-Limon technique; a sensitive dance with meaning.
In 2004, she created « Arts du mouvement » an association where she is currently teaching dance, Pilates, Gasquet gymnastic and stretching. She has also been a mountain climbing enthusiast and climbing dancer for a long time. So, when she discovered vertical dance, the feeling of weightlessness, the fascinating and magnificent movements made her dreamed. She wanted to try, and so she did it with Dominique Hédoux, former gymnastic and climbing instructor. They created their first show « Don d'amour » (love gift) which was successful to a point they hadn't expected. She then created « Un traîneau dans l'Azur » (father Christmas' sleigh), and "Moonlight" on a proposal by Amy Blake, an international lyric soprano singer.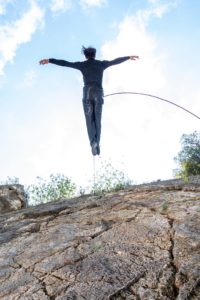 Born In Colombia and son of a musician, Fabio always has been in the dance since his young age. He begins his train at the Ballet Academy of Irma de Rojas at 17 years old and joins two years later Myriam's Guerrero's ballet. During five years he goes to several greats schools and his talent is known.
In 2007, he joins the IN-EXTENSO Company under the management of Sophie Landry. Three years later, his Company Art-Attac goes in a tour in Colombia and participate to the 5theditition of the international festival of contemporary dance "Caliendanza" (Cali). Also, in 2011, he takes part in the dance video project "Momento's" shoot by the filmmaker Marisol Correa. They received the Jury special price at the 5thcontest of Dance video of Colombia.  In parallel, he choreographs and directs "Tom et Hulk" and "Fais-moi rêver"
In October 2013, he graduates with the mention (Pretty Good) in "Transmission businesses and dance intervention" at the Letters, Arts and Human Sciences' College of Nice, then he creates the Company Faova in order to dig deeper into the research of choreography.
Summer 2017, he organizes the first international festival of Jazz at the Teatro de Bella Artes, "El Goce Divino", at La Mesa (Cundinamarca, Colombia), he receives the France embassy in Colombia's support.
Also, Fabio has danced for 7 years in operas, in operettas at the Opera of Nice meanly, and join the Contre Ut Company of Nice.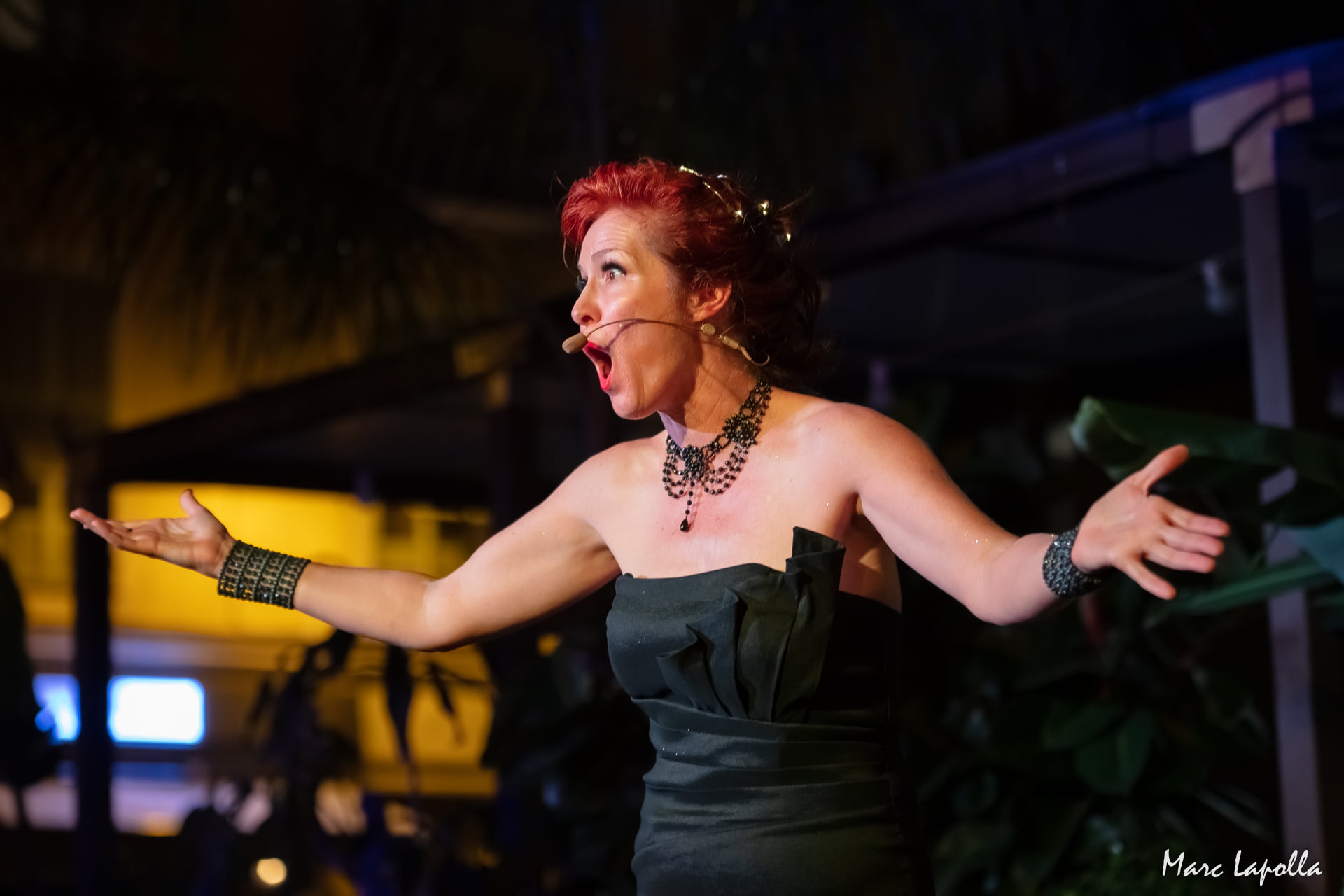 Born in Texas and graduated from the Texas Tech University of Lubbock, Amy Christianna Blake currently lives in Nice (French Riviera, France). Her great musicality offers her the possibility of singing every genre: from lyrics, oratorio, recital, to contemporary compositions. She took part in several "Masterclasses" and she won a few singing contests in the United States like the one of the Puccini Foundation, The Liederkranz Foundation and The Bel Canto Caramoor. She also has been invented to participate at the finales of the lyric Opera Center for American Artists in Chicago.
She interprets several greats characters in greats Opera (Mozart, Händel, Bach). Recently, she records a CD "Love's Philosophy" with the pianist Dee Penicaut.
As part of the Liszt's Festival, she sang the Mass in D and the Te Deum by Dvorak with the choir of PACA Regional under the direction of Michel Piquemal (at Tourette-Levens, France), but also a recital of a few melodies and "Liszt and his heirs" with Oliver Augé-Laribé, pianist (at Saint-Blaise, France). She was soloist for the "Jazz and Orchestra – a story of Love" at the Opera of Nice with Nice's Orchestra, a show directed by Olivier Tardy.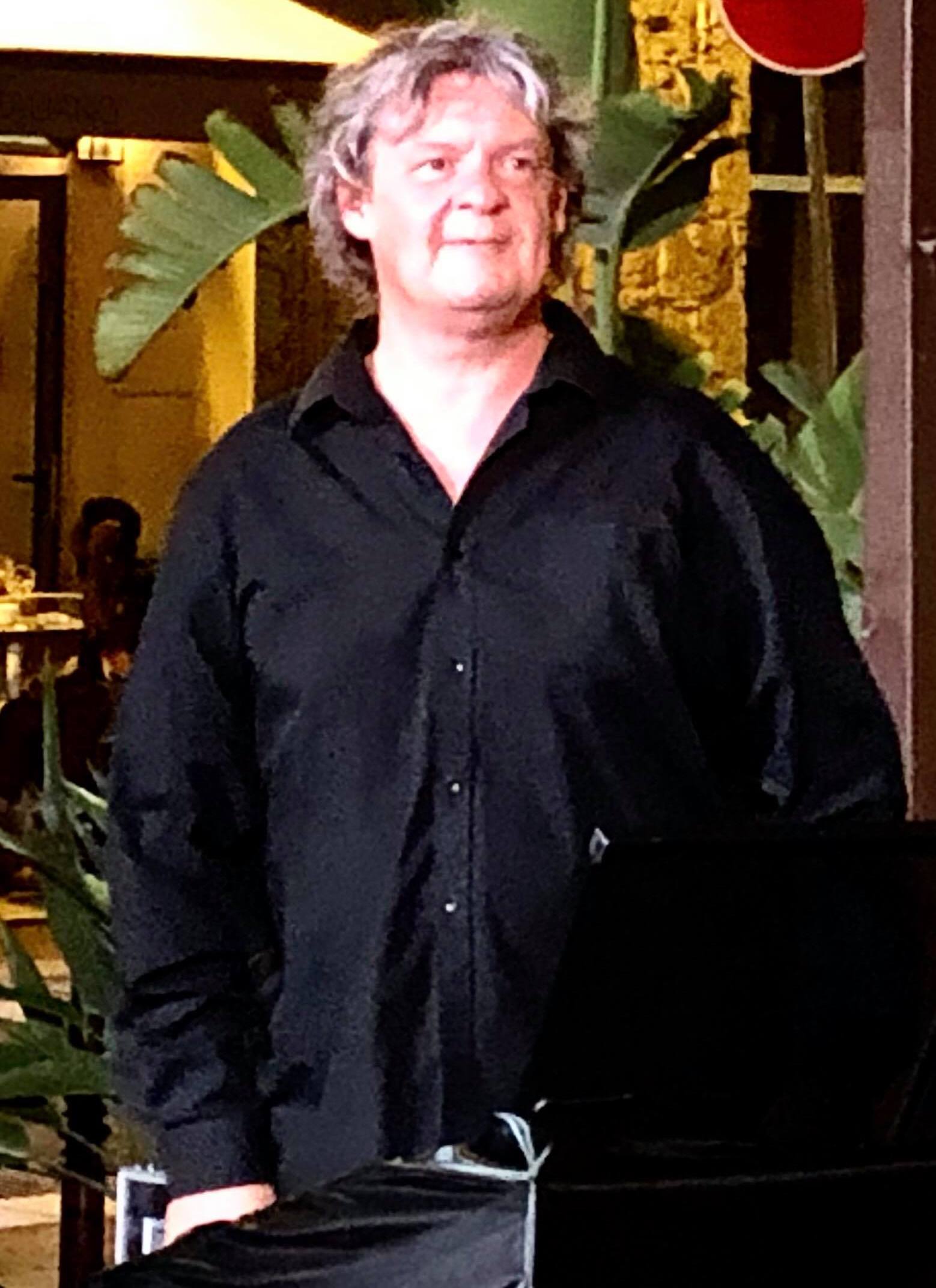 Organist at Saint Pierre d'Arène at Nice since many years, Stéphane Eliot got, in organ classes and improvisation at the conservatory of Marseille and Paris, golden medals in both those disciplines with Annick Chevallirt and Marie-Louise Langlais. He will obtain a bronze medal at the "International Electone Festival 1994" of Tokyo. His passion of the lyric repertoire brings him to accompany great international artists like Elizabeth Vidal and André Cognet in the programme "from Bach to Beatles" or "The Silk Road" with his symphonic organ during concerts organized by "C'est pas classique" ("It's not classic").
He participates actively to the cultural life of the PACA region (France) and he is a privileged guest of the main musicale manifestations such as the commemoration of the death of Edith Piaf and the Maria Callas Memorial with Vanessa Pont or Marie-Dominique Mézin. The philharmonic orchestra of the Nice's Opera also invited him to keep the great organ of Saint-Pierre d'Arène for the "Requiem" by Duruflé performed with Annie Vavrille and the choir of the Opera as part of the "Holly Musique Festival of Nice" (Festival de Musique sacrée de Nice). He plays since 5 years in the version "Great Organ" of the New Year concert gathering over 1500 spectators, turning the instrument into a giant luminaire.
The famous tenor, Albert Lance, called him to play the orchestra partition fully with his symphonic organ in the beautiful production of the oratorio "Marie-Magdaleine" by Jules Massenet. He participates at several disc recordings with Father Gil Florini who he accompanies frequently on tour. He played the orchestra part in the Verdi's "Requiem" for the Byelorussian National choir end the Latvian one in Toulon.
Technical Team
Jean-René Duflot has worked as a rope access professional in different companies for 20 years. He passed the CQP2 (rigger/ cordist certification level 2)   and the TOTC (manager for rope access). He is also a driver of mobile lift platform for people and mobile crane. He is a rescuer secourist at work as well.
He has managed height work and security on rope following the recommendations of prevention organizations as DIRECCTE . DDTEEFP . CARSAT . CODE DU TRAVAIL . INRS . OPPBTP . DREAL
He worked for ONF (forest national office) and has got a great knowledge of trees. He managed forest reconstruction program after natural disasters accounting animal and plant species.
Since 2019, he has accompanied the Reverie vertical dance company to install the anchors and helped for the artistic projects thanks to his knowledge and expertise.